I spent the Labor Day weekend camping with family and friends at Caines Head State Recreation Area, on Resurrection Bay south of Seward. On Sunday, we did a really cool hike up the Alpine Trail. Despite rave reviews in guidebooks and online trail guides, this hike is still relatively unknown. I think it ranks among the best trail hikes in Alaska.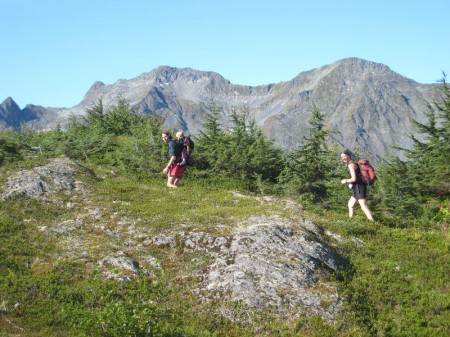 The trail from Caines Head to above treeline is three miles (plus an additional 4.5 miles if you are starting from Seward instead of Caines Head or Derby Cove). Once you get above treeline, there are tons of cool glacial ridges and gullies to explore, a few small tarns, and spectacular views of Resurrection Bay and Callisto Peak.
At one of the tarns, the kids and moms stopped to wade in the water and scramble on the rocks, while Ian and I explored the southern flanks of Callisto Peak. Lots of amazing features to see up here. Gorges, glaciers, cliffs… and that's before even raising your head to gawk at the views of Resurrection Bay.   Ian and I hiked up to the southern ridge of Callisto, where we were treated to a spectacular view of Bear Glacier and the gigantic icebergs floating in its glacial lake. For me, it was the "view of the summer" and one of the best glacier views I've ever seen. Unfortuantely, in our haste to drop our kid packs and start exploring, Ian and I both left our cameras behind. Damn! So I can't share that view with you. The best I can do is show you a couple of pictures of what the view looks like in winter (thanks to Matt Faust). These pics are taken from the top of Callisto rather than the ridge, but you get the idea. Its even more dramatic in the summer with greenery and blue water to offset the white ice. 
I highly recommend checking out this hike if you are in the Seward area. The views are as good as Lost Lake or Exit Glacier/Harding Icefield, but with a lot less people. And if you do go, please send me a picture of the Bear Glacier view! I want that shot in my photo album. Maybe I'll just have to go back. Sigh.